Get to Know the Disney Twisted Wonderland Characters
Girls, let's be real. There's a little part of ourselves that is longing for an adventure. Something dangerous yet alluring at the same time. Well, worry not since Disney seems to hear our wish! Together with Aniplex, they come out with a game called "Disney: Twisted Wonderland".
This video game introduced some of their characters back in March 2019, but we hadn't heard much from them until a few days ago. Disney Twisted Wonderland characters are based on the villains from Disney's beloved franchise and designed by the well-known Black Butler mangaka, Yana Toboso. This leads to a high hope from both the Disney and Anime fans. In Disney Twisted Wonderland, we will be playing as the main character that got summoned to a magic training school called "Night Raven College" by a magic mirror. Since we cannot go back to our world, we are offered protection by the rather suspicious-looking headmaster that wears a mask. While trying to find our way back, we have to mingle and get to know the uncooperative geniuses of that school. Here, the Disney Twisted Wonderland characters are mainly divided into 7 different dorms, each inspired by certain Disney villains. 
Heartslabyul
Compared to the other dorms, the inspiration behind the Disney Twisted Wonderland characters residing in this dorm can easily be determined by their name. The fact that four out of five characters named are base on cards, pretty much screams 'Alice in Wonderland'.
Octavinelle
Unlike the Heartslabyul, you might not recognize right away where the Disney Twisted Wonderland characters in this dorm are base on. Judging by the description and the uncanny similarities in the expression, we are quite sure that they inspired by the villains from 'The Little Mermaid'.
Scarabia
Disney Twisted Wonderland characters that dwell in this dorm are easily recognizable, but mostly because of the dorm name. Since the only Disney Princess franchise that took place in the desert is 'Aladdin', it is obvious that it is the inspiration for the characters.
Pomefiore
Let's be honest, if you're only looking at the design of the Disney Twisted Wonderland characters in this dorm, even us in JCS are having the problem determining what they based on. Fortunately, since one of them is overly narcissistic and the other is named 'Epel', we have a strong feeling that they are based on 'Snow White'.
Ignihyde
Even when you compared to the super obvious Heartslabyul, the Disney Twisted Wonderland characters that are staying in this dorm is even more obvious. Like, how many characters in Disney that have a (literal) flaming blue hair? Only Hades from 'Hercules'!
Savanaclaw
Just like Scarabia, the name of the dorm itself reveals their origin. Since 'Lion King' took place in a savannah, also the ears are a dead giveaway, it's obvious where these Disney Twisted Wonderland characters are based on.
Diasomnia
Diasomnia is also a dorm that pushes us to think a bit more. Luckily due to the color palette, and the fact that the characters have 'horns' which probably to pay homage to Maleficent, it is safe to assume that the Disney Twisted Wonderland characters in this dorm are based on 'Sleeping Beauty'.
Aside from those who are staying in the dorm, there are also some other Disney Twisted Wonderland characters that are based on different villains and act as the supporting characters like teachers.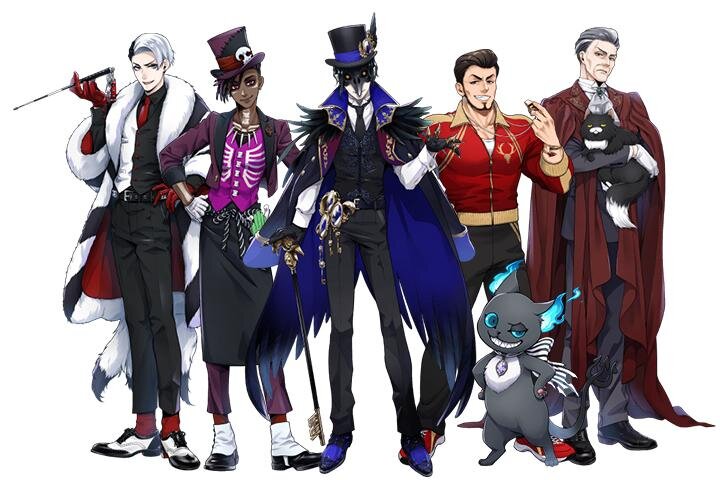 In the end, the anticipation is getting higher and higher as the game is planned to be released around the first quarter of 2020. So you better prepare yourself and top up your iTunes balance at japancodesupply.com!