Doraemon Story of Seasons; Double the Nostalgia, Double the Fun!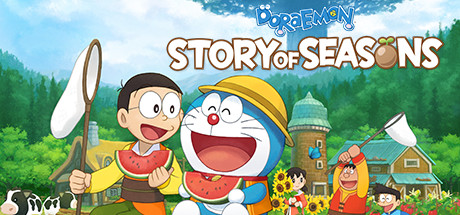 BANDAI NAMCO comes with another nostalgia and fun game, which partnered up with a much-loved title, Doraemon. This time we got Story of Seasons game which is a crossover with Doraemon, the charming cat-robot from 22nd century. Doraemon Story of Seasons came to Nintendo Switch on October 11th, 2019. The series that was used to be Harvest Moon, a game where you take care of an abandoned farm which was left by your grandfather. The goal of this game is to rise to prosperity and socialize with the townsfolk while taking care of your grandfather's devastated farm.

You will be playing as Nobita, a lazy person who has a personal cat-robot helper from the future, Doraemon. In the unique summer vacation he planted a mysterious seed, then a storm carried him and his friends to another world. Later, they arrived in a place they have never been before, Nobita and his friends woke up to Doraemon panicking because he got his special tools stolen, hence they decide to look for a place to stay and arrived at Natura Town. However, Nobita and his friends met a man who is willing to give Nobita and his friends a shelter, but with a condition Nobita has to agree to help him and his grandma to take care of his destroyed farm by doing many activities such as fishing, farming, mining, and many others. The purpose of the game is to help Doraemon to get his special tools back so you can use Doraemon's special tools to take care of your farm and communicate with the locals and obviously, to get home.
Few available tools which you can use here in the game are :
Grow Quickly
As the name says, it'll make things grow quicker. It will be very useful to use in Nobita's quest to restore the farm in the Doraemon Story of Seasons.
Weather Box
If you play the previous Story of Seasons games, you will probably encounter a situation where you want tomorrow's weather to be specific whether it is sunny or rainy. This device will help you with that.
Mini Raincloud
A device that will help you watering the area around the device.
Anywhere Door
It's the iconic device that will help you travel to any map you want.
Pass Loop
A device that will open a hole that lets you pass through the other side.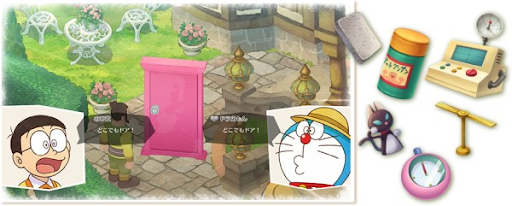 Doraemon Story of Seasons has released now and available to play on Nintendo Switch. Join Nobita and his friends as they go into another world and help them to restore the farm while you gather Doraemon's devices. Go get it by purchasing your Nintendo Prepaid Cards here and start playing now!