Top 5 Pokemon Detective Pikachu Festivity!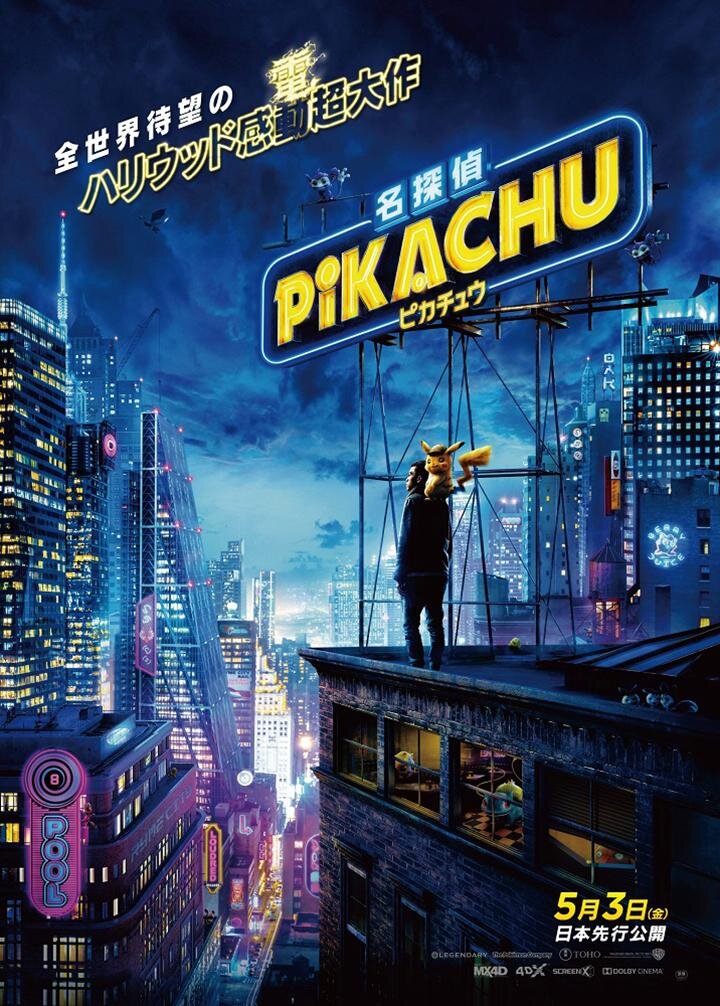 Detective Pikachu the movie, as the first live-action version of Pokemon, will be released on May 3rd. The movie is based on the game "Detective Pikachu Birth of a New Combination" which was released 3 years ago in Japan and last year in the US.
The story is about a boy who loved Pokemon, Tim (Justice Smith; JP ver. Ryoma Takeuchi), who went on to investigate the incident related to Pokemon and his father, Harry, disappearance. Since that time has passed, one day he gets a phone call from Yosuke Yoshida (Ken Watanabe), who was a colleague of Harry. "My father died in an accident-." With complex feelings in mind, Tim head to Ryme City, a city where humans and Pokemon coexist. Heading to Harry's room to organize his luggage, Tim encountered a Detective Pikachu (voiced by Ryan Reynolds), who speaks in human language that only he can hear. The Detective Pikachu, who was once Harry's buddy, had lost memories of the shock of an accident but had only one conviction. Harry is still alive. Why did Harry disappear? What is the mystery of the incident that takes place in Ryme City? Two new combinations now confront the big incident!
You can check out the new trailer from the official:
As we are looking forward to the movie, the fever has already started in Japan. Join the hype to commemorate the movie before you watched it!
Try The Roll Ice Cream Factory Collaboration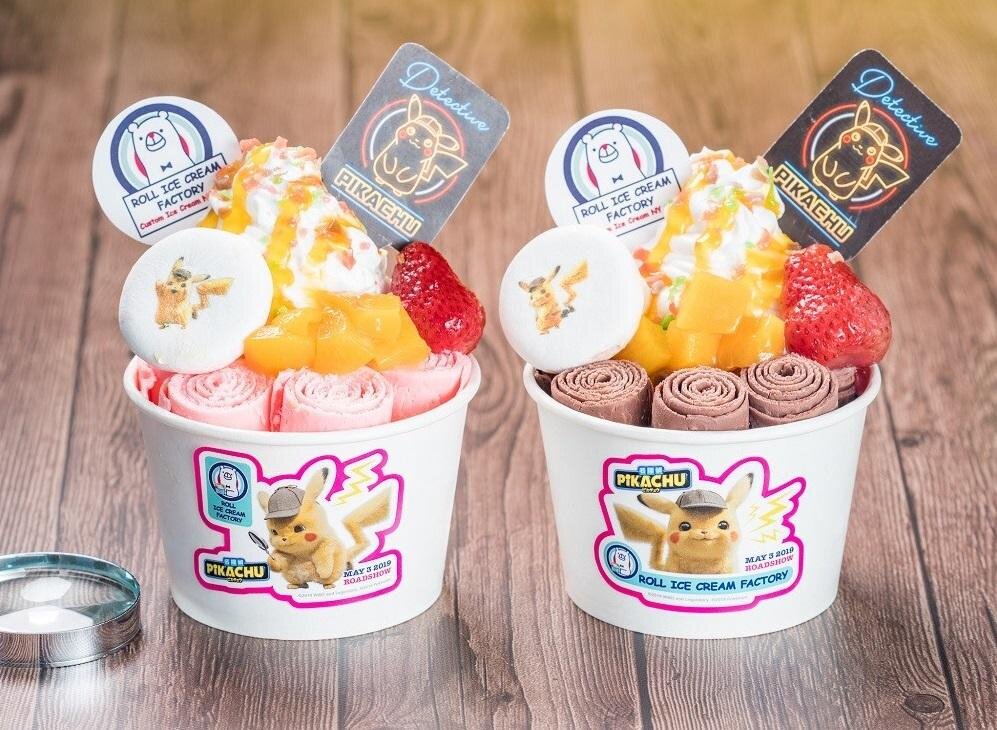 Roll Ice Cream Factory by Something NEW Co., Ltd., as Japan's first roll ice specialty store will start selling Detective Pikachu Roll Ice. The store already has seven retail stores in Harajuku, Osaka (Dotonbori), AEON Mall Sakai Kitahana branch, Nagoya, Okinawa, Yokohama and Osaka (Kyoto). The roll ice is a limited-time product that commemorates the release of the movie Detective Pikachu.

Detective Pikachu Roll Ice is described with a yellow body with a red rose in the image of impressive Pikachu and topped with yellow peaches and strawberries, and whipped cream with a popping candy which represents an image of electricity emitted by Pikachu. With a special pick of a cute neon sign topped with Pikachu marshmallow, Pokemon fans will be offered a special menu in a limited edition cup. It will be available from April 24th to May 10th. The movie, the same as the two flavours of ice cream, is a work that can be enjoyed by adults and children alike. The price is 1,000 JPY (tax included).
During the sales period, the store's decoration in Harajuku, Omotesando, Kyoto, and Shinkyogoku have been changed to Detective Pikachu Roll Ice Cream Factory. The staff also wears a cute Detective Pikachu T-shirt and services. In addition, Pokemon who appears in the movie will also appear in the store. You can take a photo with your favourite pokemon and roll ice since a photo spot is set up in the store. Enjoy the story of the world-renowned movie Detective Pikachu with adorable roll ice cream.
  Pop Up Advertisement in Japan
Warner Bros. and The Pokemon Company have started ramping up their marketing efforts for Pokemon Detective Pikachu, which premieres in a few weeks worldwide. First and foremost, take a look at this adorable advertisement which has started to appear in Japanese mall: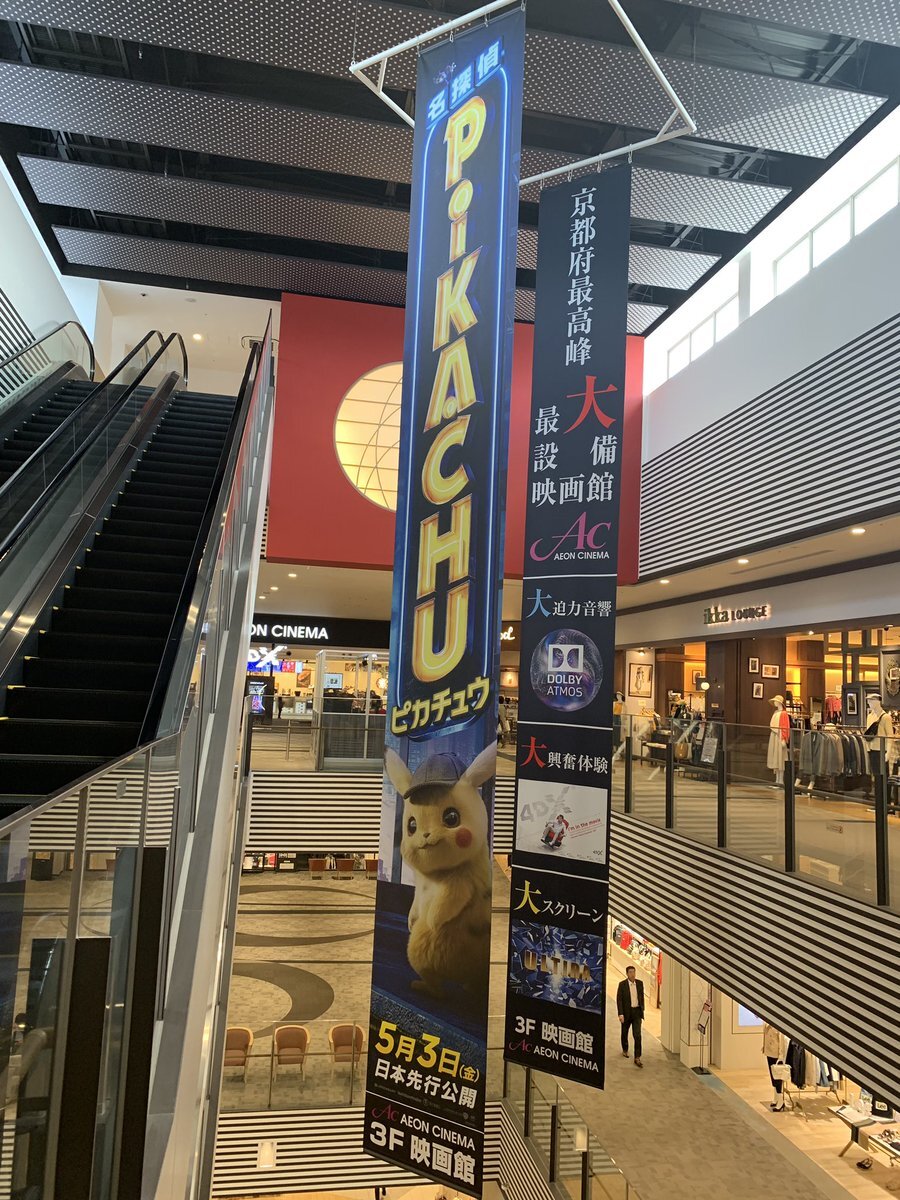 Collaboration Fair With Coffee Favourite Detective Pikachu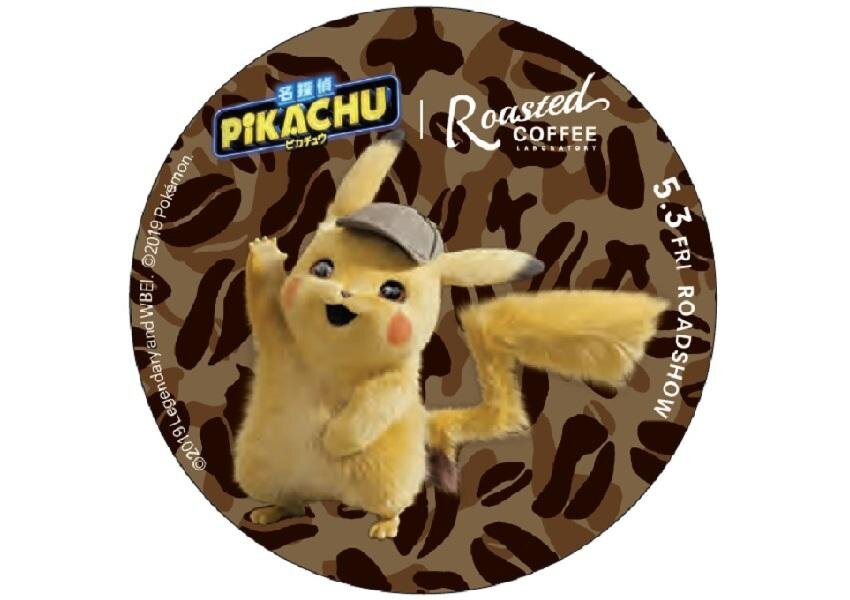 Coffee Shop Roasted Coffee Laboratory is selling limited package menu in collaboration with the highly awaited Hollywood live-action movie, Detective Pikachu, in which to be released in Japan on May 3rd. It will only be released at a selected store from April 26th for one month. The coffee is transformed into three types of Pikachu package which are; Strong Coffee, Tapioca Milk Coffee and Coffee Shake.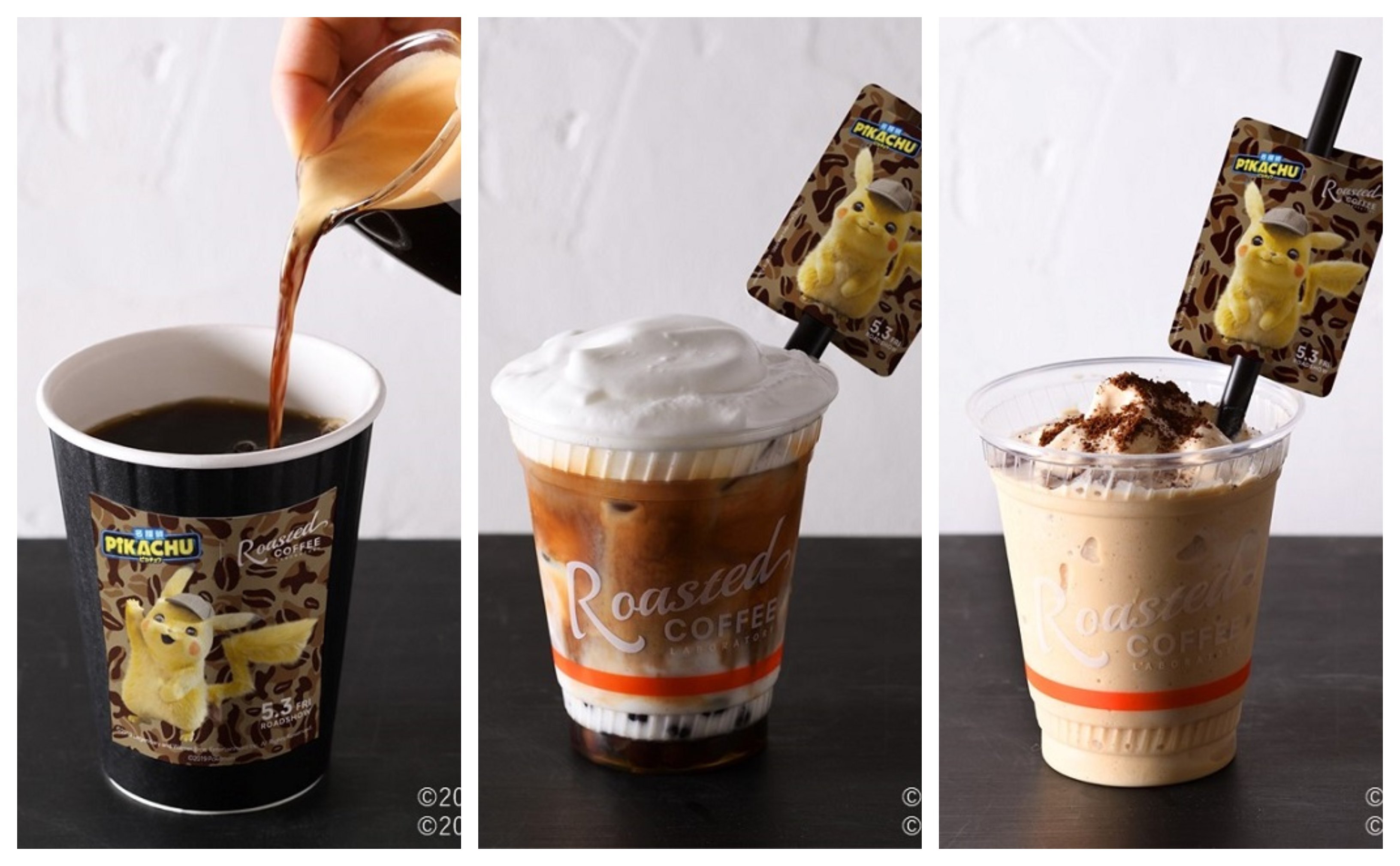 Selected Roasted Coffee Laboratory locations will also sell a Drinking Bag Box featuring Detective Pikachu. And from April 26th to April 30th, you can purchase any Pokemon Detective Pikachu coffee to receive a Detective Pikachu badge for free (limited only to the first 30 coffee on each day for each store).
  Limited Time Menu of Detective Pikachu at Pokemon Cafe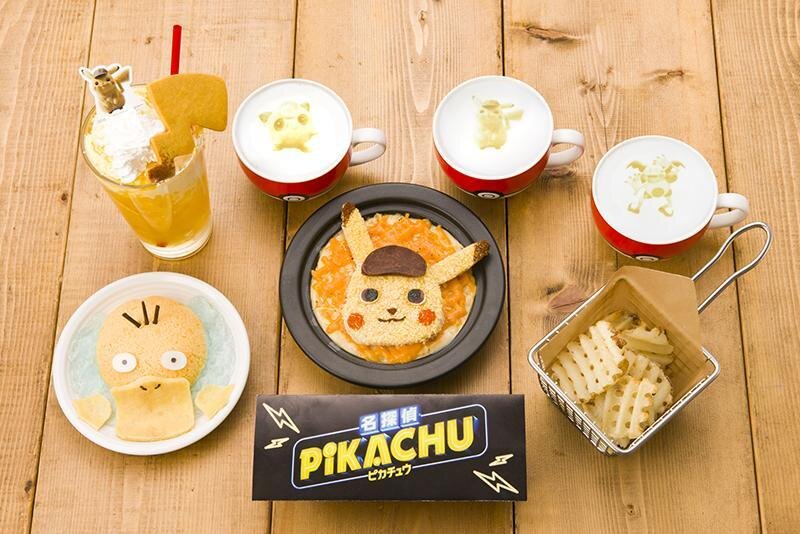 Some new menu commemorating the release of the live-action movie Detective Pikachu is available for a limited time on April 27th to June 30th at Pokemon Cafe. Visitors at Pokemon Cafe will be able to enjoy dishes and beverages inspired by the movie. Here is the menu that available at Pokemon Cafe during the period:
Detective Pikachu Macaroni & Cheese - 1,706 JPY (tax included)
Detective Pikachu's Electric Shock? Float Drink (lemon soda and crackle candy) - 1,274 JPY (tax included)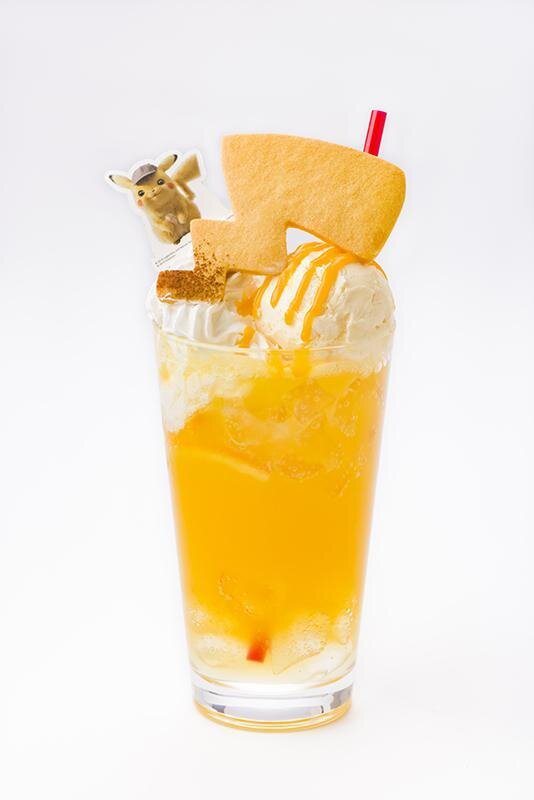 Detective Pikachu and Psyduck Combo - 2,570 JPY (tax included)
Detective Pikachu Set (it is a menu that set with the detective Pikachu & Psyduck and detective Pikachu's electric shock? float drink  - 3,780 JPY (tax included)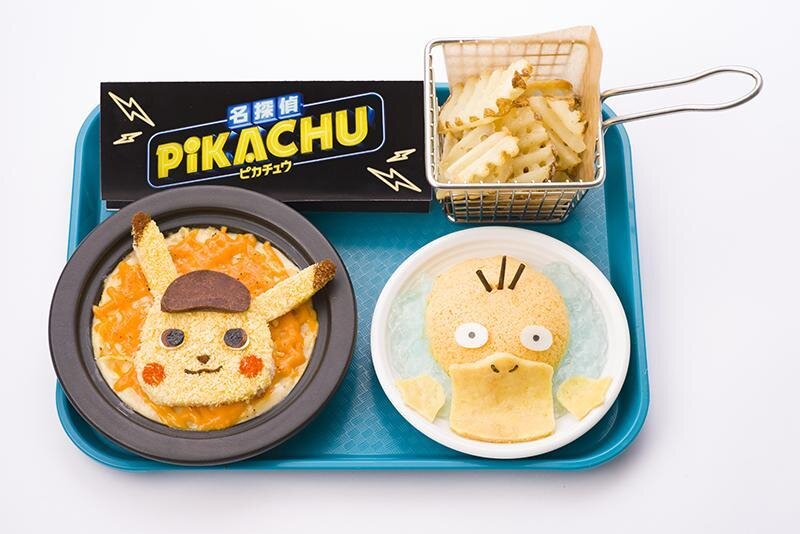 Detective Pikachu Latte – per each 756 JPY (tax included)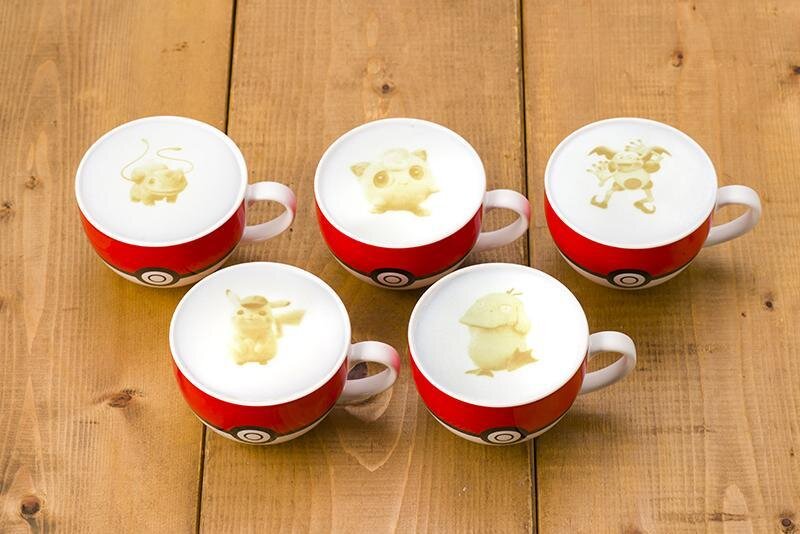 Order the main dish and you will get a Luncheon Mat, however, the period is bounded only from April 27th to May 31st. As it is finished as soon as it disappears.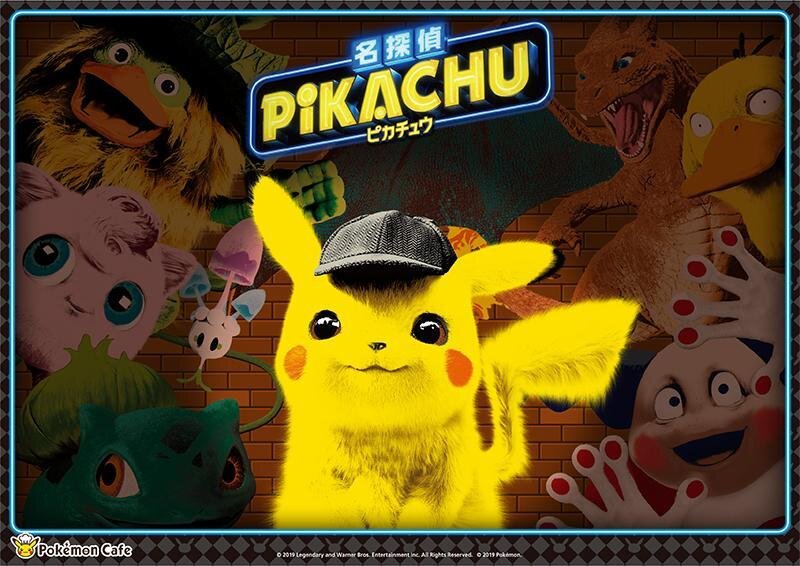 If you're lucky, you will receive this special Drink Coaster when you order a beverage at Pokemon Cafe. You have a 1 in 6 chance to pull this.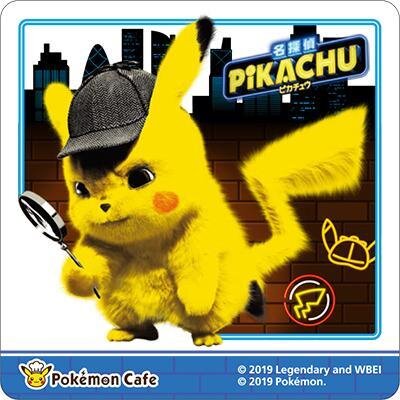 Goods of Detective Pikachu Appeared at Pokemon Center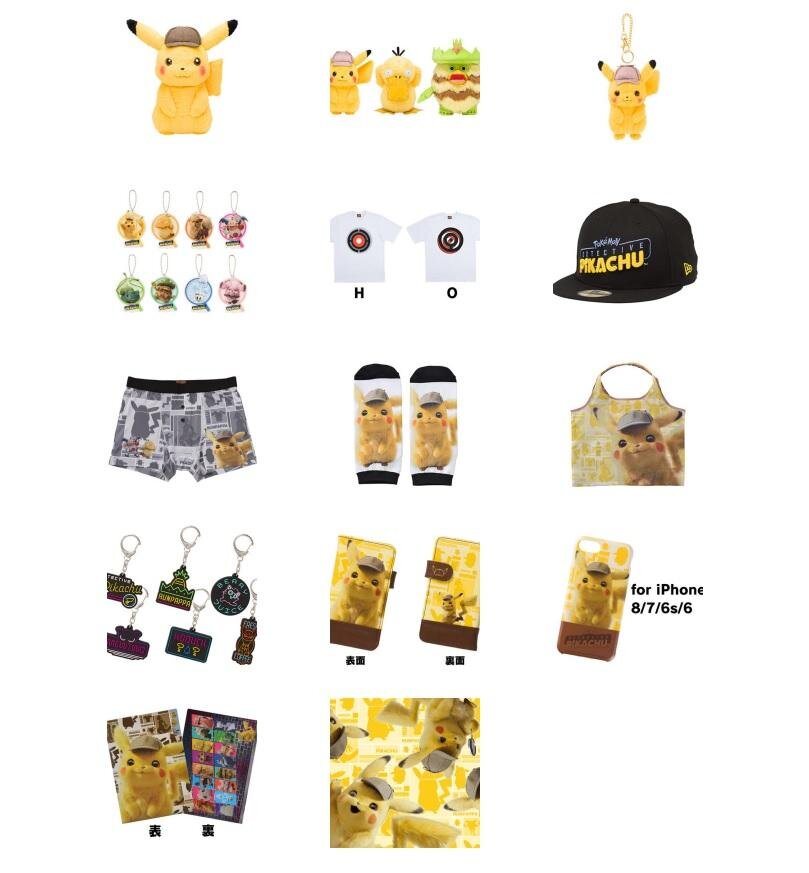 Goods of Pokemon's first Hollywood live-action movie Detective Pikachu, which will be released on May 3rd, will appear on the same day at Pokemon Center. The Detective Pikachu plushie, that plays a big role in the movie, is life-size (about 0.4 m) in size. T-shirts of the same design that the main character Tim is wearing, boxer shorts, short socks, etc are also added to the lineup. There are also lots of easy-to-use goods such as acrylic charms, rubber charms and eco bags. It is recommended for all Pokemon fans beyond generations.
Are you one of Detective Pikachu fans? Enjoy the festivity of Pokemon Detective Pikachu now! You can get the game on the Nintendo e-Shop. Our Nintendo Prepaid Gift Cards are always available for you!