Start a New Journey in the Newest Black Clover Mobile Game!
If you are a fan of Black Clover, you must be hyped as it will get a game adaptation! At Jump Festa 2022, Shonen Jump magazine's annual event, a promotional video about the new Black Clover game was announced.
So far, there's no fixed announcement about the game's title thus it is currently called "Black Clover Mobile". This game will be developed by VIC GAME STUDIOS, a South Korean developer affiliate with Pearl Abyss who is well known for their open-world MMORPG called Black Desert. Their newest project, Black Clover Mobile, will be released in the third quartile of 2022 and will be available for Android and iOS. Although it was announced during Jump Festa 2022, there's no information about pre-registration about the game.

Based on the promotional video, we can confirm that it will be an open-world adventurous game. Although the detailed game system has not been announced, characters drawn in high-quality 3D have appeared in the PV like Noelle Silva, Luck Voltia, Magna Swing, Finral Roulcase, and many more. Here, we'll start our journey by exploring the city with Asta, who acts as our beginner character. The key to this RPG is most likely team formation, where we'll need to build up the team strength by gathering a new character during our adventure and fighting alongside Black Bull's members.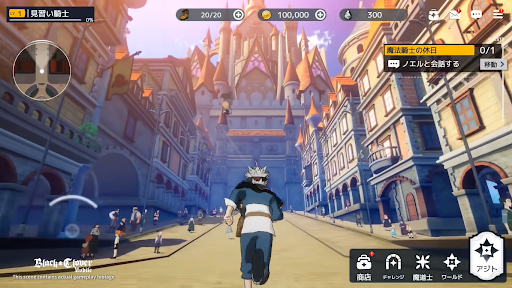 Since the promotional video is the actual footage of the game, we can assume that we will fight one of the demons in the Clover Kingdom, Licht. Such a nostalgic moment! We can use the character's magical skills to fight the enemies. Also one of the most anticipated things in this game is the characters' skills will be shown not only as basic animation but a 3D graphic animation with cool moves!
Previously, there has been a Black Clover mobile game adaptation called Black Clover Mugen no Kishidan, which is a turn-based RPG. However, in December 2020, the game ended their service. Now that they will release a new game with an open-world and RPG concept, we can't wait for this game to be released!