Attend Tokyo Game Show 2020 From Your Room!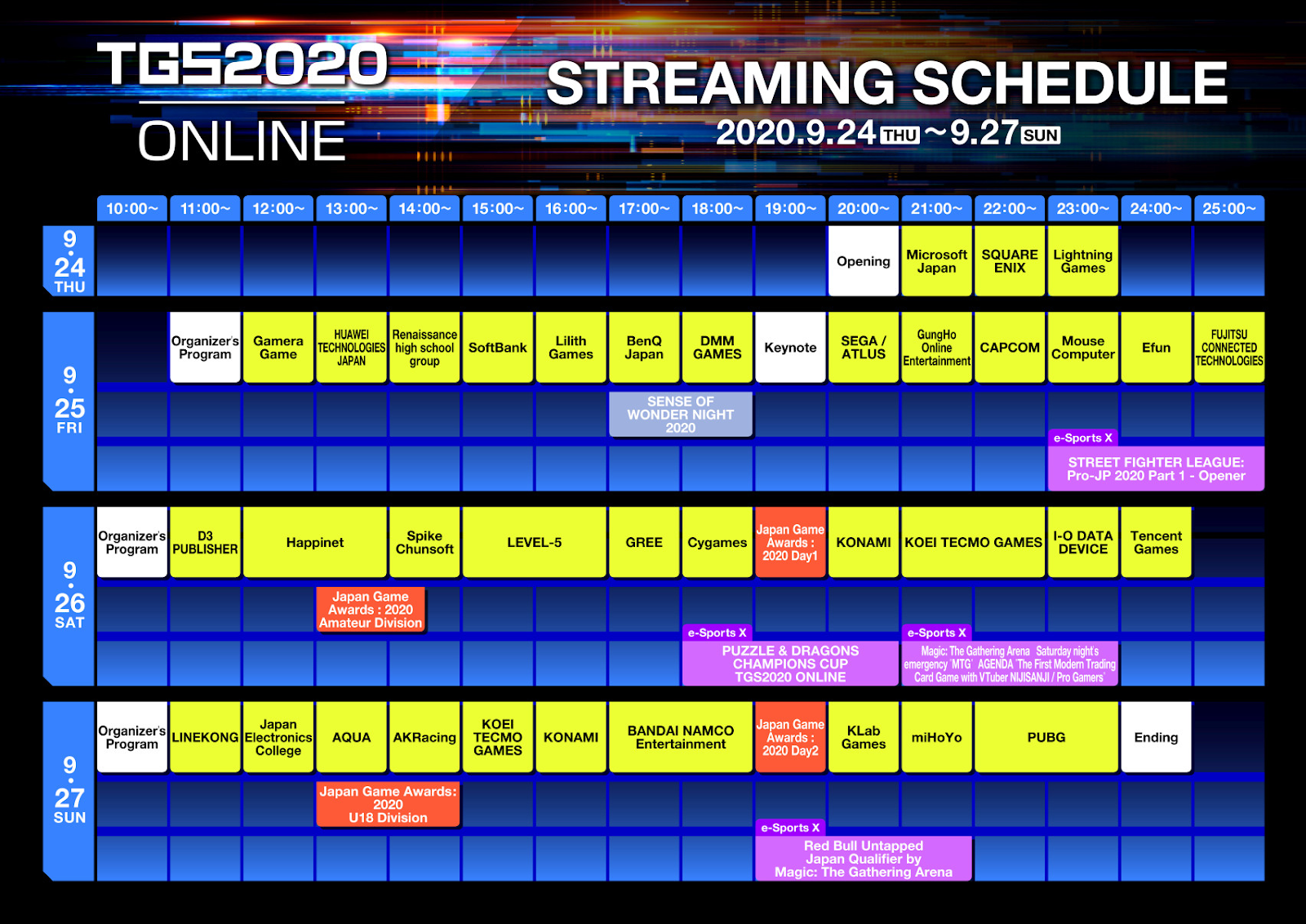 Canceled earlier this year due to pandemic reasons, Tokyo Game Show 2020 switched to an online live stream event this September, 24th-27th. With the announcement of the lineup and schedule by the Computer Entertainment Association (CESA), the event is now ready to go!

If you've been wondering about what games the publisher and developer will bring to the event, worry not as we've compiled a list especially for you. Without further ado here's the list of publishers and developers that will come to Tokyo Game Show 2020 Online!

Microsoft
Starting the event off with Microsoft, they will be having an Xbox Showcase where everyone can have fun! Microsoft will also bring you the latest news on Microsoft Flight Simulator for PC, and more info on their recently announced games.

SQUARE ENIX
SQUARE ENIX comes with more details on their new game, Babylon's fall and their next gen game, Balan Wonderworld. They also have a lot of info for their Final Fantasy and Dragon Quest franchise. Will it be a new expansion for Final Fantasy XIV? We do hope so.

Lightning Games
Lightning Games will showcase three of their freshest side scrolling games; Hardcore Mecha, HAAK, and ANNO Mutationem. They will also share their game development story and latest gameplay demo with the audience of the show!

And that's it for day 1, let's get into day 2 right away!

Gamera Game
Gamera Game is a Chinese developer that will debut to the world on Tokyo Game Show 2020! Publishing a lot of beautiful games, we hope that they can make a big impact in the gaming industries. You can check their games on http://www.gameragame.com/

Lilith Games
Lilith Games will be on Tokyo Game Show to showcase their AFK Arena and Rise of Kingdoms to the Japanese crowds. They will bring new information regarding the latest information of their games.

DMM Games
DMM has a lot of information to be delivered for their released and planned to be released games! A new title from DMM Games will debut on Tokyo Game Show 2020! If you're playing DMM games, you might want to check our site for seamless purchase of DMM cards.

SEGA/Atlus
SEGA/Atlus the developer of Persona 5 will bring their existing and upcoming titles that will be released this fall to their lineup on Tokyo Game Show 2020. Also, don't miss the special SEGA 60th Anniversary event!

CAPCOM
CAPCOM is coming in hot with their CAPCOM Special Program. They got something to reveal and will give the latest game updates on Resident Evil Village. We deeply hope that they will tell us the release date.

Efun
Efun will bring the latest information on Illusion Connect, Stella Chronicle, and two games expected to be launched next year by Efun. If you're playing the Japanese server of Illusion Connect and Stella Chronicle, we might be able to help you purchase iTunes gift cards!

That's a wrap for day 2, let's move on to day 3!

D3 Entertainment
D3 Entertainment will showcase their new title, Earth Defense Force: World Brothers, the latest entry on Earth Defense Force with a voxel graphic! If you're a fan of EDF and Minecraft, this might be your thing!

Spike Chunsoft
As the publisher of Cyberpunk 2077 in Japan, they will host Night City Wire on the main live stream of Tokyo Game Show 2020. Will the game actually release this year? We do hope so!

Cygames
Cygames will give a sneak peek of their newest Switch exclusive title, Shadowverse: Champion's Battle. Special guests from the game's cast will be joining on the show!

KOEI TECMO
KOEI TECMO will release more info about Atelier Ryza 2: Lost Legends & the Secret Fairy on the first half of their schedule and they have not give any info on what they will announce on the second half. On day 4, they will also host a Dynasty Warrior 20th Anniversary Live Stream.

Last day of the event, day 4!

Konami
On day 3, Konami will host Konami Info Show where you can get the latest news and updates on Konami. On the next day, Konami will host a show featuring their latest game, Momotaro Dentetsu: Showa Heisei Reiwa mo Teiban!

Bandai Namco Entertainment
Bandai Namco will host a special program with their latest game, Sword Art Online and their title for next gen console, Scarlet Nexus. We expect a new gameplay trailer will be released on this show!

KLab
KLab will be hosting their Bleach: Brave Souls Bankai Live on the main stream of Tokyo Game Show 2020! The event will provide you with the latest news on Brave Souls and the viewer will be able to play co-op with the guests during the show!

miHoYo
miHoYo is having a special program for Tokyo Game Show 2020, one day before Genshin Impact releases on September 28. Which console are you going to play this game on?

And that's a wrap! Aside from special programs by the publishers or developers, Tokyo Game Show 2020 will also host a few tournaments including Street Fighter V and PUBG. Are you gonna watch the live stream? If yes, what's the game that you're hyped the most? Write down in the comment!