Triumph in Three Kingdom Smash! available on the Japan iTunes Store!
Hi everyone, today I am bringing you a pretty nice war-based strategic game from Japan called, Three Kingdom Smash!, or 三国大戦スマッシ!, developed and published by Ateam Inc. and available exclusively on the Japanese Apple iTunes App Store! Much like many JRPGs, the battle format is set up in a turn-based attack configuration. The game plays at an overhead view which reminds me of the NES Zelda days and I really enjoyed a lot of the combat aspects. Let's check it out!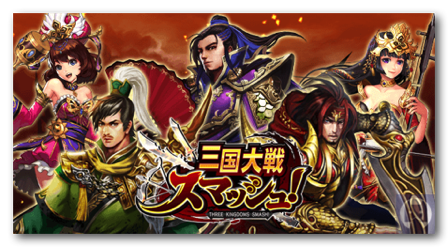 In Three Kingdom Smash the game begins with your party configuration already pre-planned for you. This game does have a small amount of download before you begin it, so be aware you will need a bit more storage than the actual app says. The game is extremely simple! Basically all of the party members that you have are bouncy balls and what you do to fight monsters and large groups of enemies is pull back on them and they bounce at any angle you need to kill the boss! I liked this about the game because it allows you to not fret too much about the battle and just enjoy it all! Occasionally your characters will have special attacks that you fire off as well by clicking their nameplate.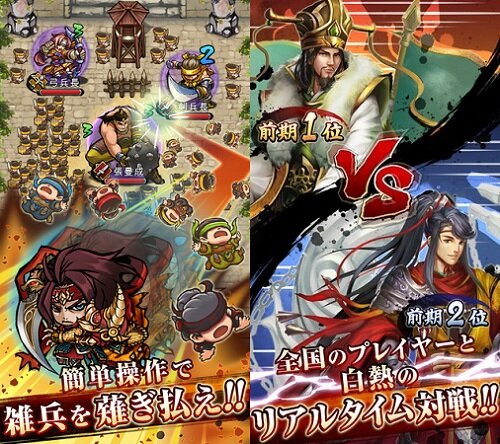 As you continue to win battles you will attain more player cards which count for your party's makeup. You get to choose which cards and characters you play with, and through pushing through the story line you will continue to strengthen them! This Japanese historical themed title will be really fun for you guys, especially because you really don't need to know the Japanese language to enjoy! Below I posted a promotional video for you to see some of the gameplay first hand. Let me know what you think, and I always encourage you to comment below and let me know your thoughts before and after playing the games I review!
Three Kingdom Smash! is available only on the Japan iTunes App Store, and is free to download and play. The game does offer some tempting in-game purchases to aid in your leveling up as well as vanity items so be sure to charge up your account before investing a lot of time in the title so that you can enjoy the luxury features. 
Don't forget, you're going to need a Japanese iTunes Apple ID to enjoy this content! If you have not yet created your own Japanese Apple ID we have a guide for your to get started, right here! At JapanCodeSupply, we make it easy for you to pick up Japan iTunes Gift Cards in the safest, cheapest and instant digital delivery method, so that you can enjoy Japanese content like Final Fantasy XIII, on your own devices. Enjoy!