Protect, feed and raise your own Fish with, "Sunfish Survival Game" on the Japanese iTunes Store!
I have reviewed a game recently that isn't like most that you will see in the west lately, but this genre of "grow-evolve" games have been showing extreme popularity in Japan so I figured I would show you guys an example of such a title. Today I bring you, 生きろ!マンボウ!or "Sunfish Survival Game!" developed and published by Koya Nakahata and available now on the Japanese Apple iTunes App Store. This game is really cool because it inhabits the pixel-bit feeling of retro games, plus it is made by an solo developer so you have to give props to someone who can successfully make a simple little game like this, themselves. Let's check it out below!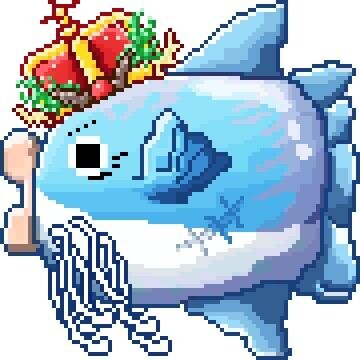 First I will, say the game is extremely basic.That's kind of the joy of this style of game, which has become so popular in Japan. Basically, you have a baby fish and as the little sea creatures around it spawn, you click them to eat them. Doing so, gains you weight and also experience points. As you hit the threshold for levels your fish will evolve into a bigger form. I have seen many of these simplistic feeding and evolving games on the Japanese iTunes Store and they do have quite the appeal. Initially, they are simple and can seem boring at first, but after your first evolution you begin to get addicted to leveling up your fish, throughout the day! As expected, while you gain levels it becomes harder and harder to gain weight so you use special points that you have earned through feeding to buy more expensive feed.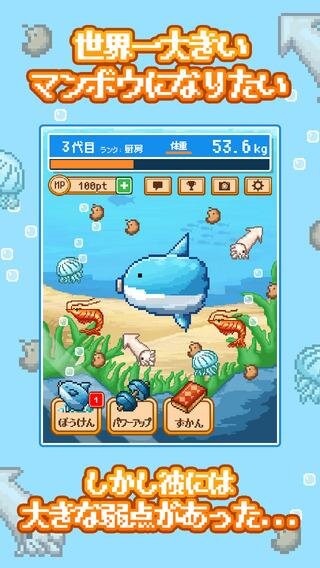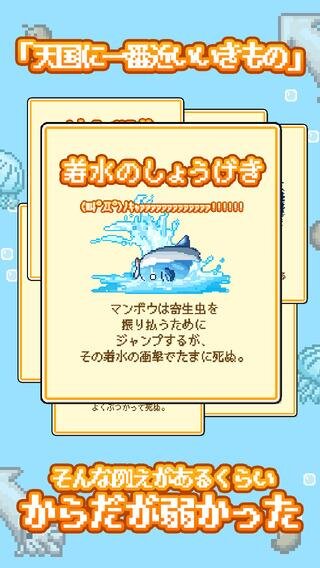 It seems also that your fish can die if you do not properly feed it at appropriate times, much like a virtual pet behaves. Although, I do think that this is a bit less demanding than a tamagotchi from the mid-nineties, as far as care goes. If you opt for notifications on, on your ios device it will alarm you when you need to care for your adorable blue sunfish! Also I noticed that some types of feed or food will be far to big for the sunfish at first, so do not get over zealous at the lower levels. If you start off small, you will have a humongous fish in no time! Below I've included a video of some gameplay with Japanese commentary to get a feel of how the game is, and how it responds on iOS devices. Enjoy!
As expected, 生きろ!マンボウ!or "Sunfish Survival Game!" is only available, free to download on the Japanese Apple iTunes App Store. There are also in-game purchases to help enhance your sunfish growth to the max, if you are looking for some quick fishy-evolution! If you have not yet created your own Japanese Apple ID we have a guide for your to get started, right here!
At JapanCodeSupply, we make it easy for you to pick up Japan iTunes Gift Cards in the safest, cheapest and instant digital delivery method, so that you can enjoy Japanese content like this on your devices. Have fun!