Dance 'till your Idol Heart's Content with "Love Live! School Idol Festival" for the iOS on the Japan iTunes Store.
Hello all, Nick here. Today I am bringing you a pretty cool review of a title on the Apple Japan iTunes Store called, ラブライブ!スクールアイドルフェスティバル, or "Love Live! School Idol Festival", developed by Klab Inc. and published by Bushimo. For the idol fans out there they will appreciate this game, for the various school-girl characters that you are able to play and enjoy the story line alongside. Additionally, this game is a rhythm-music game so that genre crossover may interest others who like musical games! Let's check it out!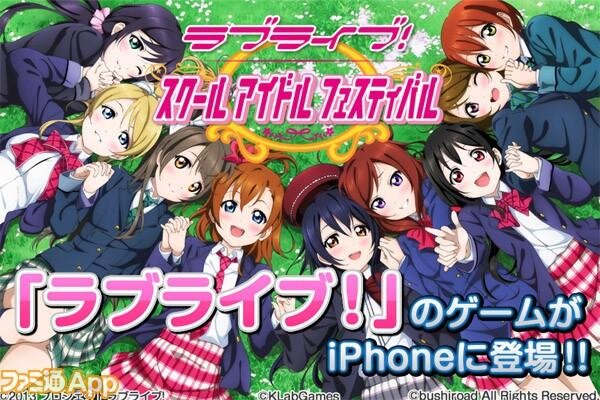 This game was pretty fun right off the bat. To begin, you are given about 12 girls from which you can choose from to use as your main character. From there, the school-story unfolds and you are right in the middle of it all. They are an idol girl group who is in training to become mega Japanese Pop-stars under the group name of "U". After carefully selecting your main leader (you choose the lead of the group) and naming yourself you will be thrust right into the rhythm mayhem.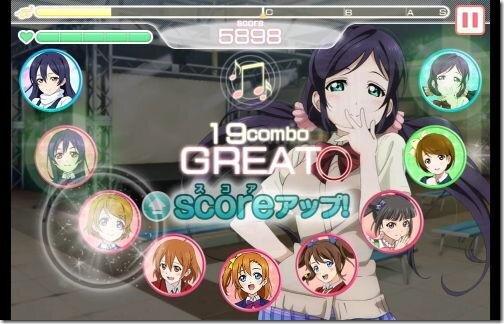 As the screenshot of the game depicts, above, you are to timely hit each various different idol when a bubble crosses them to the rhythm of the song for that level. It can get tricky because there are taps, long holds and also tricky combinations from time-to-time. The game is pretty much centered around the musical and rhythm portion of the game and this is how you will propel the story further along. As most Japanese games do, this game had some very solid voice acting which kept me entranced in the dialogue that is shown between songs and throughout the story. I think you guys will enjoy the game if you're into idol-group games as well as willing to give the rhythm portion of the game a try. Below, I've put in a video of actual gameplay for a commercial of Love Live (with a couple famous cameos as well!)! and I hope you guys will check it out. Let me know what you think in the comment section below. I'd love to hear if anyone got the change to give this game a whirl!
As you may have guessed, ラブライブ!スクールアイドルフェスティバル, or "Love Live! School Idol Festival" is available only for the Apple Japan iTunes Store, but it is free to play. There are various in-app purchases that allow you to power up your characters through the story, however. If you have not had the opportunity to make a Japanese Apple ID yet, we have a five-minute guide to help you get access to all the cool Japanese App Store content, here. At JapanCodeSupply we strive to give you the best rates on Japan iTunes Gift Cards while also promising to digitally deliver you the codes in the safest way possible!