モジポップン (Mojipoppun) "Word Pop'n" iOS Review.
Hello all, today I am bringing you a really cool game review on the Japan Apple iTunes Store called モジポップン (Mojipoppun) "Word Pop'n", developed by GungHo Entertainment. This game takes you into a very cool undersea adventure where you will mash Japanese characters together to create words and gain points to travel through the adventures of the game. I would high suggest this game if you are learning Japanese to help you with Japanese vocabulary. Additionally, you're going to have to have some knowledge of Hiragana and Katakana to enjoy this particular title to its fullest. For those of you serious about learning the Japanese language, here is a link to print out your own Japanese Hiragana and Katana Flashcards so you can begin memorizing them!  That all being said, let's check out the game!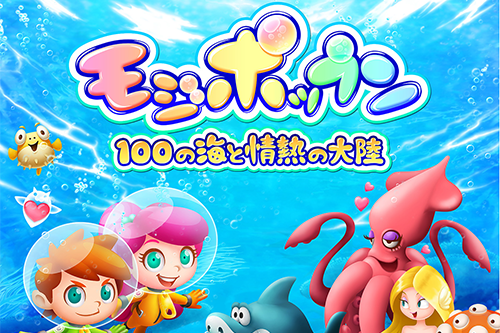 The game starts with you choosing your sea-exploring avatar. As you can see in the picture above there is both a male and a female avatar from which you can choose from by tapping them and confirming your choice. After picking your character, you will be sent out with your pet dog to adventure into the deep waters of the Japanese Language! For each level they will provide you with clues on what type of words they are looking for you to make. At this point you will see a variety of characters, in both Hirgana and Katakana floating below in which you will tap to put together in different ways to build words. Don't worry too much, they will guide you if you are struggling!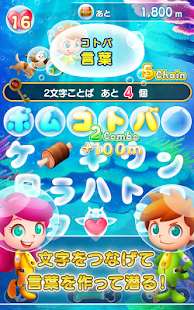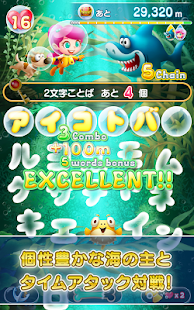 I found this game to be really fun, simple and useful especially to those who enjoy word-puzzle games and are attempting to learn the Japanese language. A tip for me is if you have an app that stands as a Japanese and English Dictionary, every time you make a unique and high point combination with characters, jot it down and check out the meaning in your dictionary. This would help you build your vocabulary immensely while also allowing you have much more success with the game. Below, I've posted a brief video for you to check out the game, in-motion. Let me know what you guys think about it all in the comments section!
Naturally, モジポップン (Mojipoppun) "Word Pop'n" is available exclusively for the Japan Apple iTunes Store. The game is free to play but does offer some in-app purchases to help your language learning adventure press on with more ease. Remember, at JapanCodeSupply we offer the cheapest, fastest and safest digital delivery of Japan iTunes Gift Cards in any amount for all of your gaming pleasures. Enjoy, and let the Japanese language-learning begin!