ガプx2アドベンチャー "Goblin (GabuGabu) Adventure" iOS Game Review.
Hello all! Today I am bringing you a unique spin on tower defense with the Japanese iOS game called ガプx2アドベンチャー "Goblin (GabuGabu) Adventure" , developed by DeNa. This game is has an adorable tribal theme for all of the minions that you will use to fight your way to the top. In this case, they are all Goblins, coined "GabuGabu" for this game's sake. Let's check it out, below!

The premise of the game is fairly simple. You use the goblins that you have in your 'tribe', or party to go through various terrains to proceed through the game. Before each level you're prompted with some dialogue between various goblin members, which usually involves describing the current mission at hand or initiating conversations with other tribes to gain favor with them, who may decide to help you out in your conquest, depending on how positive your relations with them can be. This part can be a bit tricky for those who are still learning the Japanese language, but with the audio dialogue included, it doesn't take much to understand what exactly is going on if you're not so seasoned in Japanese.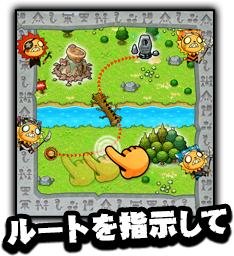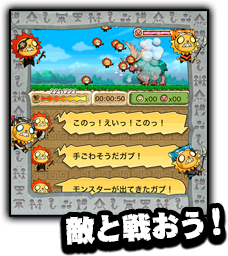 As you can see from the screenshots above, there will be an overhead map where you push your tribe through various areas in order to advance the story line, while also picking up new tribe mates and skill-ups for each of your goblins. The Goblins have distinct appearances for a reason: Each type of goblin has it's own unique ability on the front-lines fighting portion of the game and you will need to strategically decide which you want to use for each particular puzzling battle situation. It's quite fun! One of the strong points of the game is the artistic direction of the character and terrain designs paired with the fun music throughout the game. It's a very multimedia rich game that DeNa has presented to us! Below, I've put in a little promotional video of the game if you'd like to get to know the premise of gameplay a bit better on your own accord. Let me know what you think in the comments section, I love hearing your feedback, especially when you try the games that I review!
As you may have guessed, ガプx2アドベンチャー "Goblin (GabuGabu) Adventure" is available exclusively on the Japan App Store for Apple. If you're looking for a way to get access to this store, we have a two-minute process that can help you do so, here. The game is free to play but does offer various in-app purchases that will allow you speed up and enhance your goblin battles to a more extreme level. At JapanCodeSupply we always promise to deliver you the cheapest, safest and lightning fast method of digital delivery of Japan iTunes Gift Cards in any amount for all of your gaming adventures, and ガプx2アドベンチャー "Goblin (GabuGabu) Adventure" is no exception! Best of luck in the Goblin Battlefield!