Happy New Year to everyone! Today, I'm taking a very early glance at an up-and-coming mobile strategy JRPG, called, Kingdom – Eiyuu No Keifu -英雄の系譜, developed by Axel GameStudio. This particular title is based off of the same titled anime that is currently airing on NHK television station in Japan. The characters in the anime will also appear within the game, as well as familiar situations. Pre-registration is available on their website!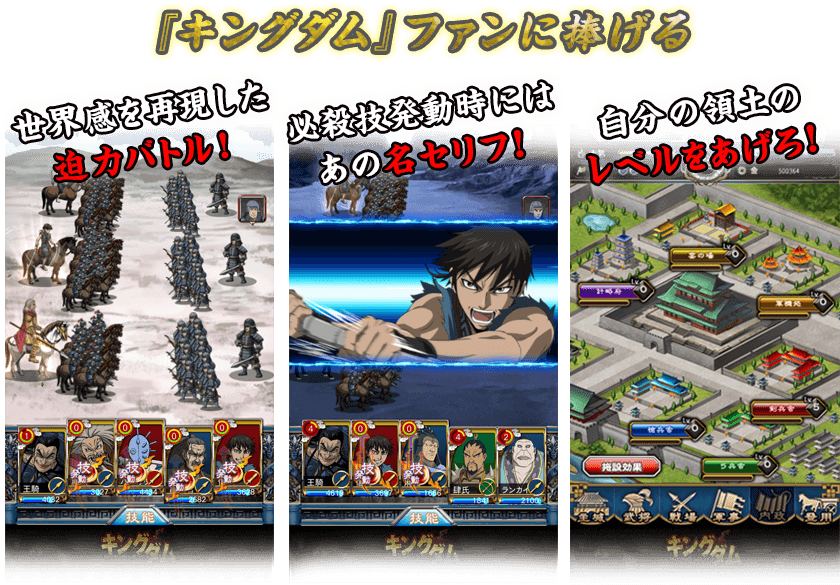 Players get to embark on a journey to become a monarch during the Warring States period, which will allow them to train their own territories, while expanding and strategically battling alongside allies to gain glory for their Kingdom.  When defeating an enemy warlord followed by a successful capture, you can then proceed to increase your army size as well! In addition, there will be very famous TV voice actors leading the cast ensemble for this epic Edo-inspired Japanese role playing, strategy game. 
Kingdom – Eiyuu No Keifu -英雄の系譜 is said to be coming to iOS in spring of 2015. I'm very much looking forward to this game, because it has both JRPG elements while also having strategic war simulation elements encompassing the game! Let me know your first perceptions of the game in the comment section below. When the time comes you'll need to pick up a Japanese iTunes Gift Card so that you can have access to the Japan iTunes Store (more info on how to do that, here). You can always rely on JapanCodeSupply to deliver fast, secure, and affordable iTunes Japan Gift Cards to you! 
No comments yet.
Please note: comments must be approved before they are published.